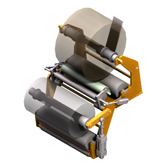 Roll Wrapping Made Simple!

Bohus PMC systems are compact and efficient - exactly like our company itself.
Manufacturers throughout the world, both large and small, seek the solutions we offer.
Why? Because our approach is simplicity. Simplicity in design, simplicity of operation, simplicity of maintenance, and most of all, the simplicity of obtaining the best bottom-line cost per value received.
Most simply stated: Bohus products perform. And they perform affordably and reliably!

Pioneers in proven, time-tested roll packaging technology:
Bohus PMC is recognized as the originator of spiral/radial roll wrapping technology. During the past five years, Bohus PMC has created the following industry- demonstrated roll packaging advances:
• Fully recyclable, environmentally friendly roll packaging without the use of any types of laminations or adhesives whatsoever.
• A system for Cost-effective Header Cutting (Disc Cutting) which optimizes roll end protection, while minimizing inventories of header stock at mill site.
• Fully Modular Core Cutting Systems which can be upgraded to any level of automation as user needs change. Built-in obsolescence will never be a part of the Bohus vocabulary.
Recent installations
*Automatic Film Roll Wrapping System with automatic header positioning, labelling, roll handling and roll data system installed at StoraEnso Pulp, Skutskär Mill, Sweden (replacing two semi-automatic wrap lines)
* Semi-automatic Film Wrapper installed at StoraEnso Pulp, Skutskär Mill, Sweden as "back-up" wrapper
* Two semi-automatic Overhead Design Film Wrappers delivered to Interprint, Ozorlow, Poland
* Automatic Radial / Axial Film Wrapperinstalled at International Paper, Franklin Mill, USA (in cooperation with ADCL)
*Automatic Core Cutting System with four magazines and pick-up robot installed at Billerud Karlsborg Mill, Sweden (in cooperation with CFE Nordic)
* Automatc Film Wrapping Machine installed at MeadWestvaco Mahrt Mill, USA